My Friend's Blog: Zero to 33,000 Uniques in 1 Year
I typically cherish the utmost in privacy when it comes to personal life. However, recently someone close to me achieved such an impressive amount of free web traffic without spending a dime that I simply had to share their experience!
Toward the end of 2015, I had finally convinced "her" to launch a blog and see how it went. I showed her the basics of how to login to WordPress, edit a new post, and upload images, and she was good to go in just a few hours (well, kind of).
"I hate reading, and I hate writing even more." Ah… perfect. We were off on the right foot, then.
"The reason opportunity is often missed is that it usually comes disguised as hard work."

— Clifford Irving
Getting A Non-Writer To Achieve Exponential Traffic Growth
Not only wasn't she a writer, but she also wasn't blogging in English, which meant I couldn't help out or "check" on things… even if I wanted to. In short, I warned her not to copy-paste any content she may find online, gave her a quick tutorial on what I call LEAPFROG SEO (see below), and advised her to publish around 1 blog post each week, whenever possible.
Exactly one year later, here are the rather impressive results: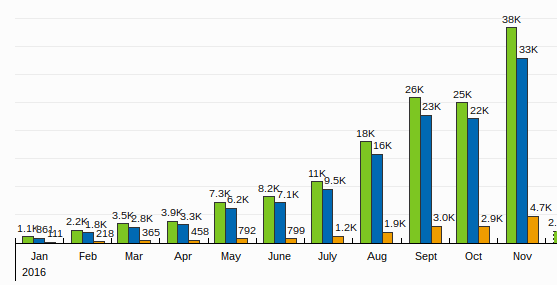 Now, I know what you may be thinking: she either had tons of blogging experience, or I performed constant SEO work for her, or her traffic was due to paid advertising, or she had some of her posts go "viral" on social media… or, or…
Well, none of the above are true! Over 95% of her traffic is organic, straight from Google Thailand. (You may notice a dip in traffic during the month of October, due to the vast economic effects caused by the King of Thailand's death.)
To this very day, I get potential private SEO clients contacting me for "off-site SEO work!" as they continue to pursue 2005-style thinking for some reason. "Spamming" your way to the top of Google hasn't worked (or been necessary) for several years already, which is exactly why I've become so passionate about managed WordPress hosting and other on-site SEO factors (DNS, SSL, code markup, theme optimization, specialized plugins, etc).
Unique Visitors Are Infinitely More Valuable Than Page Views
TRAFFIC. It's the lifeblood of everything on the internet. With no traffic — whether free, or paid — sales can't be made, reputations can't be grown, and frankly there becomes no real justification for further investment of time, energy, or money into a website or app, because Return-On-Investment is literally not even an option.
Then of course we have VISITORS. Lots of webmasters and applications love citing "page views" because it is so much easier to inflate those statistics. Whether from popups, popunders, tricky navigation, or BuzzFeed-esque photo spam of LOCH NESS MONSTER SPOTTED AGAIN!!… ultimately, "page views" mean nothing without a strong showing for unique visitors, which is the actual number of different individuals that are visiting your website each month. (I will likely be furthering this argument in a later post, along with dismissing the notion that a high "bounce rate" is the death knell of successful blogs.)
That figure, in her case, is 33,000 people per month. At this rate, if things keep up like they are, her amateur blog could be reaching over 100,000+ people each month within the next few years, in a VERY high value niche that is full of product and service opportunities. So how did she do it? It's quite simple really, so continue reading…
How To Achieve Rapid Blog Growth (Hint: Work Involved)
1. FAST AS HELL. I can recommend this until I'm blue in the face, and most website owners won't care either way. Thankfully, the awesome customers we have at LittleBizzy have literally sought us out because they DO care about performance and stability, because they know loading speed not only affects user satisfaction and conversion rate, but also directly affects your search engine rankings (that would be Google). Since my friend's audience was in Southeast Asia, I set her up on a Standard Plan located in Singapore along with SSL and SendGrid, and never touched her configuration again.
2. MOBILE FRIENDLY. Too many people still think that "mobile-friendly" is the same thing as "responsive" web design. Sorry, but no. In the case of Thai web users, over 70% of them primarily use a smartphone to access the internet (rather than desktop computers), one of the highest mobile access rates in the world. Choosing a (free) responsive WordPress theme was definitely part of what helped my friend, but it's just as important that your site LOADS FAST on mobile devices, and makes immediate sense to visitors, especially for a culture that is notorious for its short attention span. For what it's worth, avoiding overloading your growing blog with advertising scripts is another good strategy both for speed, building trust, and more.
3. DOMAIN REPUTATION. I don't mention this to encourage obsession with trendy metrics like "domain authority" or "citation score" or other forms of SEO bullshit meant to sell software to clueless webmasters. Instead, simply keep in mind that part of improving reputation is simply avoiding negative associations. So, if you are launching a blog from a brand new domain, PERFECT, but make sure you aren't pouring out your life's work into a domain that has been penalized to hell because of spam, hacking, slow loading speed, or past "SEO campaigns"… (for the record, littlebizzy.com is in fact still penalized from a ton of "adult" backlinks we got years ago, but I wasn't willing to change the name of the company).
4. HIGH QUALITY STANDARDS. Probably the most important thing in growing a blog these days is quality. While the term can mean different things to different people, it's actually pretty clear when it comes to the blogosphere: good looking design, no broken links, no missing sitemap.xml or robots.txt and things of that nature. But more importantly, every story that you post should of course have a clear (specific) topic, good grammar, a quality photo(s) with credit, and transparency in regard to the ownership of the website, author of each post, and so forth. And obviously, the quality of your writing doesn't need to be amazing (as my friend discovered) as long as your topic makes sense, is generally well-formatted, and each post is long enough to address a good amount of related ideas (keywords?)… don't obsess over "long-tail search queries", etc.
5. LEAPFROG SEO. This concept is something I started doing several years ago, and frankly it isn't rocket science. I may end up offering a course or something later on since I've received many inquiries, but in short Leapfrog SEO is the idea of thoroughly browsing search engines in regard to the topic you plan to write about. This is a strategic process that takes a few hours (at minimum) and not minutes, if you are doing it right; ultimately, when done well it should provide you with a clear idea of how specific your blog post topic should be, which titles/slugs are working on competing websites, and the various arguments, keywords, and sources that you should include in your post in order to have a "more authoritative" article than most of the other search results on the topic. (If a course on this interests you, please email us or comment below.)
Off you go then! Quality + specific blog posts on a blazing fast server… DONE.
Tags: blogging, Growth, loading speed, SEO, Traffic
Last modified: 10 Dec, 2016
https://www.littlebizzy.com/?p=14690